Careers in Administration and Planning
The Office of Adminstration and Planning (A&P) supports The Ohio State University's academic mission by providing support services that keep campus running 24 hours a day. The university offers a comprehensive benefits package, ongoing professional development and a favorable retirement program.  Review our Buckeye Jobs at either the university or medical center:
A&P JOB PoSTINGS (MEDICAL CENTER)Click on the dropdown:  "Facilities/Maintenance/Engineering/Environmental Services"
Interested in other opportunities at Ohio State? Visit the main careers site.
---
Join A&P's Candidate Database
A&P regularly hires for the following job categories so even if you do not see a posting now, please email the appropriate HR contact to have your name added to our Buckeye Jobs candidate database. 
BUS DRIVERS - The Ohio State University is seeking part-time bus drivers.  REQUIRED - Class B CDL with Passenger and Air Brake endorsements.  Successful applicants must pass a background check and physical exam.  All shifts are available (morning, afternoon, evening, nights, weekends), with flexible scheduling.  Email Kurt Farnsworth.
CONSTRUCTON PROJECT MANAGERS - Lead university project management teams responsible for the programming, design and construction of facilities.  Email Shannon Rice.
CUSTODIAL - Three shifts available.  General cleaning skills required, including medical and hotel experience.  Training provided and certification in professional cleaning program after 6 months.  Email Carol Michel.
GROUNDSKEEPERS - Landscape Services maintains approximately 1,700 acres, including the Don Scott Airport, more than 24 athletics fields, 130 miles of sidewalk, the Health Sciences District, Buckeye Grove, and the Gateway Complex on North High Street.  To join this team, email Becca Hubbard.
POLICE OFFICERS - The Ohio State University Police Division is CALEA accredited and works hard to keep the campus safe. Learn more or email Kurt Farnsworth.
SECURITY OFFICERS - The Ohio State University Department of Public Safety provides security for the central campus, including the Wexner Medical Center and Wexner Center for the Arts. Learn more or email Kurt Farnsworth.
SKILLED TRADES - Three shifts available.  Plumbing, HVAC, electrical, and general maintenance skills required.  Email Carol Michel or Katina Landgraff.
A&People
Meet some of our 1,250  people in Administration and Planning.  We will continue to add staff profiles, so check back occasionally to get a flavor of what it's like to work in A&P.  Interested in learning more and joining the team?  View our current A&P job opportunities.  Go Buckeye Jobs!
Lance Bloomfield - FOD Senior Manager
Defying the odds! Lance works hard, but his world was turned upside down with the diagnosis of having a brain tumor. With the love and support of his friends and family, Lance survived and has been back to work for years doing what he loves.
Christy Miller - Bus Supervisor
Christy has taken a small side project and turned it into an asset that has enhanced the service provided by Ohio State's Campus Area Bus Service. Each morning, Christy visits bus stops to count riders, ensuring that the bus service remains timely.
Marcus Alexander Austin - Maintenance Repair Worker
Marcus ensures the university buildings are ready for students and is a member of Administration and Planning's Diversity Council.
Tom Teeter - Vehicle Operator 2
Tom Teeter has held many support services roles during his 28 years with Ohio State and currently operates TTM's patient courtesy shuttles for medical center district patients and their families.
Karen Crabbe - District 1 Zone Leader
Karen Crabbe's first exposure inside Ohio State facilities was as a student-athlete. As a District Zone Leader for Facilities Operations and Development, she ensures the buildings are in tip-top shape.
Stephan Thompson - Operations Planner
Stephan schedules and helps execute long-range preventive and planned maintenance.  He is the originator of the Employee Video Archive, hosted by FOD staff for FOD staff.
Teresa Head - Lead Housekeeping Manager
Celebrating more than 10 years at Ohio State, Teresa enjoys working the third shift to help prepare the university for a new day.
Alex Bolt - Public Safety Dispatcher
9-1-1, where's your emergency? Alex Bolt is one of those voices on the other end of emergency calls or public safety inquiries. Alex started within the Department of Public Safety as a student and now tells his story as a dispatcher
Curtis Moody - Systems Specialist
This HVAC professional recently returned from military service and now uses his technical skills to help keep faculty, staff, and students comfortable in the various campus buildings.
A&P Shared Services - HR Associates
The work of the Service Center in A&P Shared Services isn't as visible as some, but their purpose is paramount. Avani Borade and Tracy Draudt share the story of this "other" HR team.
Julia Siffrin - Plumber
Facilities Operations and Development - Plumbing since 1987, Julia started with the university in 2009. From routine maintenance to emergencies, she says there are no small jobs in keeping the university running.
Trence Askew - Security Officer
Department of Public Safety - Trence became a Buckeye to pursue a career in Criminology, with a goal to become a police officer.  He's now in his senior year, both working and enjoying the educational benefits.
Jackie Shafer - Producer
Her work has her behind the scenes, but this time WOSU producer/editor Jackie is in front of the camera.
Tina Bogac - Research and Biosafety
Tina Bogac is an Ohio State Distinguished Staff Award recipient. Bogac earned the prestigious honor after helping FOD's Environmental Health and Safety team reinforce a positive safety culture, particularly in research laboratories.
Luther Nolan - Landscape Services
Enjoying the outdoors, Luther takes pride in keeping the campus looking its best for visitors, staff, and students alike.
Officer Shaul & K9 Rita - OSUPD
This team
patrols campus and enhances safety for large-scale events. Watch how the three-year partnership quickly blossomed into a friendship that doesn't stop when the dynamic duo goes off-duty.
Joe Skully - Information Associate
Facilities Operations and Development - Joe started his journey at Ohio State in 2002 through the Project Plus program. See how he makes a difference with his contributions to the District 3 team.
David "Jr." Lemaster - Maintenance Machinist
Facilities Operations and Development - Hired in 2003, following his dad's 34 years with the university, Jr. works on the supply of water, steam, and fans to heat and cool the buildings properly.
William Griggs - Security Supervisor
Department of Public Safety - No two days are the same for William, with the university since 2001.  This video profiles his former position as a Traffic Control Officer, where he helped navigate traffic to keep the 100,000+ daily faculty, staff, students and visitors safe.
Brett Seekely - Transit Operations Coordinator
Watch how Brett Seekely is traveling his way through the ranks at TTM.
The Scope of A&P
Administration and Planning's six departments are dedicated to the day-to-day operations of the university, offering a wide variety of job opportunities.  Additionally, these groups are supported by Shared Services staff, with positions available in Human Resources, Finance, and Communications. We have a wide variety of Buckeye Jobs.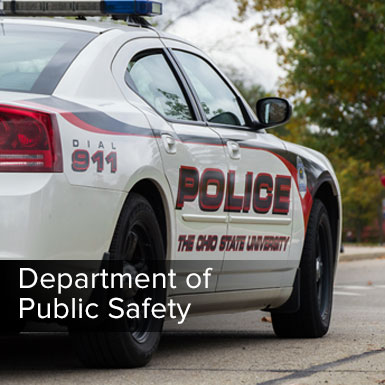 Campus & special events safety, crime & fire prevention, emergency management planning & notifications, international travel safety.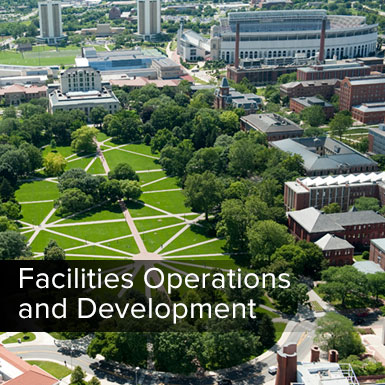 Custodial & maintenance service, landscaping, utilities, construction planning & managing, roads & sidewalks, environmental health & safety, building design standards, energy  sustainability, campus signage, solid waste management.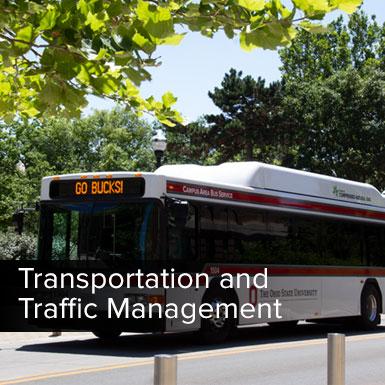 Campus bus service, charter transportation, vehicle rental, fleet services, ride sharing, traffic management, vehicle maintenance.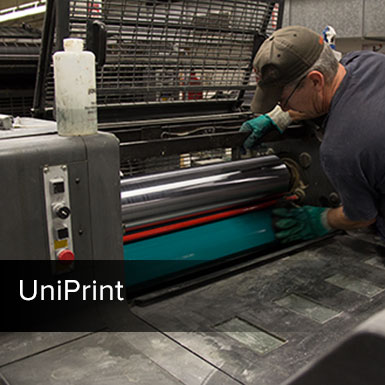 The official university printer, addressing, document & inventory management, managed & wireless printing, printing & photocopying, microscope repair.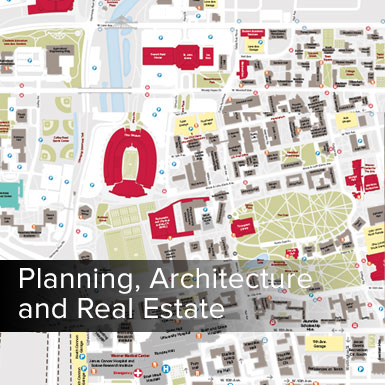 Master planning, space and capital planning, property management, building plans & archives, surveys, building audits.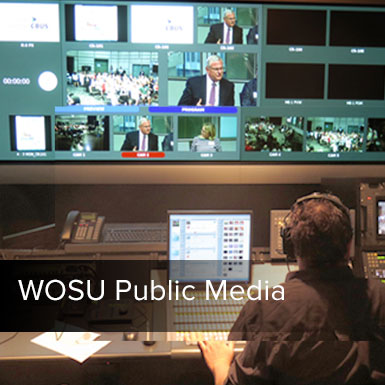 Educational and entertainment programming on television and radio, in conjunction with the Public Broadcasting System.